Chennai Wednesday 16th April 2008
Stem cell research: call to take into account ethical issues
Risks involved in treatment must be addressed, says Vice-Chancellor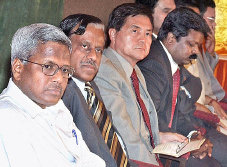 DISCUSSION: (From left) M. Chidambaram, Director, NIT-Tiruchi, M. Ponnavaikko, Vice-Chancellor, Bharathidasan University, Kazuo Minagawa, Counsel General of Japan, and Samuel JK. Abraham, Director, NCRM, at a function in Tiruchi on Monday.
TIRUCHI: Research in stem cells must be enhanced in the country by involving students without losing focus on ethical issues of treating with stem cells, speakers at the inauguration of Stem Cells Therapy Centre at Kaveri Medical Centre and Hospital (KMCH) observed on Monday.
KMC entered into a memorandum of understanding with Nichi-In Centre for Regenerative Medicine (NCRM), Japan. Speaking at the function, the Consul General of Japan, Kazuo Minagawa, said that the field of regenerative medicine had seen many breakthroughs in recent times and stem cell therapy had given hope to patients suffering from degenerative diseases. India shared a key position with countries that were a hotbed of stem cell research activities. Mr. Minagawa observed that the MoU would go a long way in enhancing relationship with Japan and India in the field of medicine.
Presiding over, Vice-Chancellor of Bharathidasan University M. Ponnavaikko expressed his apprehension over the ethical issues revolving around stem cell therapy. While the regenerative medicine would create a medical revolution, researchers must address the questions on the risks involved in getting treated with stem cells. The longevity of stem cells must be discussed and their side-effects must be made clear to the public.
He assured to extend academic support to the research activities of the centre.
Addressing the gathering of medicos, Director of NCRM Samuel JK. Abraham said that researches of treating chronic disorders were in progress worldwide and stem cell treatments would be a common way to treat advanced cancer down the years.
Researches should become part of super-speciality hospitals to enhance the academic activities in India.
Director of National Institute of Technology, Tiruchi (NIT-T) M. Chidambaram, Chairman of J.J. College of Engineering and Technology P. Selvaraj, State president-elect Indian Medical Association, State Branch, R. Gunasekaran, offered felicitations. Managing Director of KMCH S. Chandrakumar, Executive Director S. Manivannan, Medical Director T. Senthilkumar and Director-Stem cell therapy S. Sankaranarayanan spoke.